Looking for an amazing gift, an incredible party activity, or a unique way to pop the question?
Vizzini's House of Escapes offers a play-at-home game which can be played as a table-top escape adventure or hosted at home as a live-action game for guests.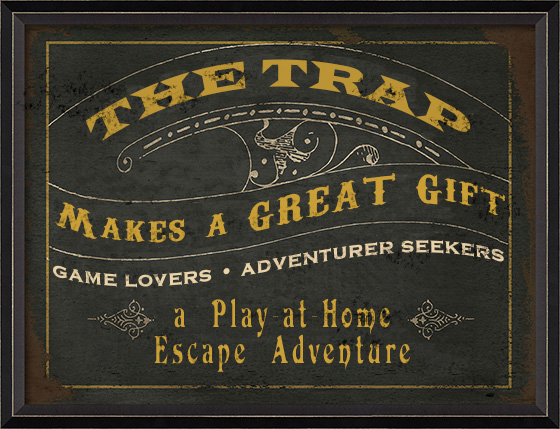 The Trap

The Trap is the prequel to Mr. Boddy's Game Room, our live-event at Vizzini's House of Escapes. Mr. Green, Miss Scarlet and their friends were not able to escape Mr. Boddy's maze of puzzles and clues. Will you be more successful?
Tear -n -Play Table Top Game - $40
Host-at-Home Props and Guide - $95
2-16 players
What is a Tear-n-Play Game?

Tear-strip cardboard envelopes replace rooms and boxes as players race the clock to unravel a twisted puzzle. It begins as an exciting table-top game which can later be hosted as an at-home escape adventure.

Before you give a gift-card or cash. The Trap makes an incredible gift!

Give an experience, not more stuff!

Surprise them with something completely unique.


It's perfect for any game-lover or escape room enthusiast.

Add a gift certificate to Vizzini's, a gift card or cash inside the final puzzle! The recipient will have to conquer the game before they see the gift!
Watch the unboxing of a Tear-n-Play game we sent to reviewers in Australia. Read their game review here.
(Black Toad Games is our Parent - Game Design - Company)